garlic and novel coronavirus World Health Organisation
Views: 24 Author: Site Editor Publish Time: 2020-02-05 Origin: Site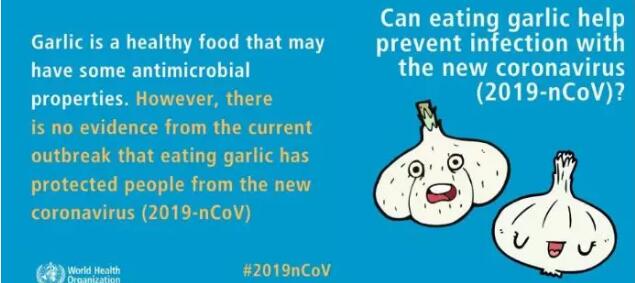 Can eating garlic help prevent infection with novel coronavirus.
Garlic a healthy food that may have some antimicrobial properties)。However, there is no evidence from the current outbreak that eating garlic has protected people from the novel coronavirus.
Is it safe to receive a letter or package from China?
Yes, it is safe. People receiving packages from China are not at risk of contracting 2019-nCoV..From previous analysis, we know coronaviruses do not survive long on objects, such as letters or packages.
Are antibiotics effective in preventing and treating novel coronavirus?
No, antibiotics do not work against viruses, only bacteria.
The 2019-nC0V is a virus and, therefore, antibiotics should not be used as a means of prevention or treatment.
Do vaccines against pneumonia protect you against 2019-nCoV?
No. Vaccines against pneumonia do not provide protection against 2019-nCoV.
The virus is new and different. It needs its own vaccine.
This information is from wechat ID:Chinadaily_Mobile on Feb.04,2020