The benefits of dehydrated garlic flakes
Views: 25 Author: Site Editor Publish Time: 2020-04-08 Origin: Site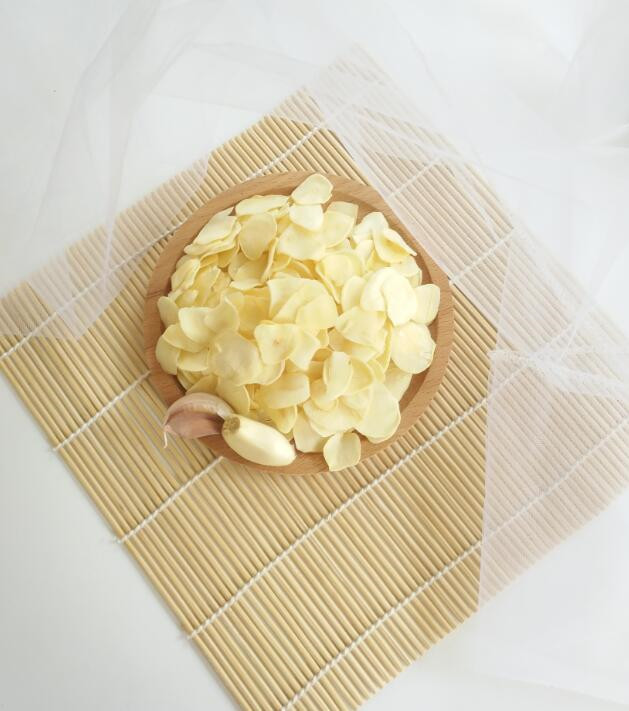 The benefits of dehydrated garlic
Dehydrated garlic flakes PRODUCED FROM FRESH, CLEAN, HARVESTED GARLIC WHICH HAS PEELED, WASHED, CUT TO FLAKES AND THEN DEHYDRATED at
about 65 Centigrade for about 4 hours.Use the hot air to dry.So usually called AD garlic flakes.
There are so many benefits of use dehydrated garlic flakes.
1.It is easy to keep.After dehydrated,the moisture content usually less than 8%,so,it can be kept for 3-5 years in cool and dry condition without direct sunlight.And it doesn't rot like fresh garlic.So,you can always have
some at home in kitchen in case forget to buy.
2.Tt is easy to use,you do not need to peel,just grab some garlic flakes,wash and then cook.If you want to use smaller
size,it is easy to be produced to chopped garlic,minced garlic,ground garlic or garlic powder due to it is very crispy.
3.Save your time.You do not need to peel,do not need to cut,this can save your time when cook.
4.Although it is air dried,it can keep 90% nutrition of fresh garlic.
Below is our garlic specifications for your reference:
COMMODITY: GARLC FLAKES
SPECIFICATION: 1.8-2.0MM
DESCRIPTION:
PRODUCED FROM FRESH, CLEAN, HARVESTED GARLIC WHICH HAS PEELED, WASHED, CUT TO FLAKES AND THEN DEHYDRATED.
PHYSICAL AND CHEMICAL STANDARD:
FLAVOUR: TYPICAL GARLIC TASTE, FREE FROM OBJECTIONABLE FLAVOURS
APPEARANCE: FREE FLOWING GARLIC FLAKES,NO CAKING..
COLOUR: MILKY WHITE
ODOUR: TYPICAL OF GARLIC AROMA, FREE FROM OBJECTIONABLE ODOURS.
MOISTURE: 7% Max
ACID INSOLUBLES ASH: 0.04% Max
SO2: 30PPM
MICROBIOLOGICAL STANDARD:
TOTAL PLATE COUNT: <100000cfu/g
COLIFORMS: <3mpn/g
E. COLI: <3mpn/g
SALMONELLA: Not Detected
STAPHYLOCOCCUS AUREUS: <10cfu/g
YEAST/MOULD: <100cfu/g
LISTERIA MONOCYTOGENES: Not Detected
CONTAMINANTS(MYCOTOXINS AND AFLATOXIN): NONE
PESTICIDES RESIDUE:Not Detected
INGREDIENT:100% GARLIC AND GMO FREE.
PACKING: 20KGS/CARTON.
STORAGE:STORE IN COOL, DRY AND DARK CONDITION.
SHELF LIFE:24MONTHS
NOTE: ALSO CAN PRODUCE DEHYDRATED GARLIC GRANULES AND POWDER.
Skype:anna-girl-cn
Whatsapp:86-13355080685
Mail:yummyfood1@cnyummyfood.com